KOK KUNDAK is working about walnut gunstock blank in Duzce / Turkiye since 1985, founded by Nevzat YILDIRIM.
An excellent gunstock isn't have only a good color or a good figure it is very important that if it will be a strong gunstock.
Please click for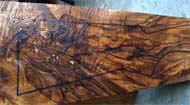 New Added Available rifle and gunstock blanks
Please click photos to see our gunstock blank and riflestock blank samples
We are obtaining woods from different parts of Turkey. Producing carefully and drying with air.
Contact Information
You can contact us about your orders or your questions
+90530 136 6350 +90532 557 6350